THE SIMPLE, COMFORTABLE SOLUTION TO YOUR
BUSINESS' WORKFORCE HOUSING NEEDS
• Fully-furnished Spaces
• Utilities, Wi-fi, and Satellite TV Included
• Private Washer and Dryer In-unit
• Dishwasher In-unit
• 40" Flat Panel TV
• Covered Outdoor Common Areas
  With BBQ and TV
• Fully-furnished Spaces
• Utilities, Wi-fi, and Satellite TV
  Included
• Private Washer and Dryer In-unit
• Dishwasher In-unit
• 40" Flat Panel TV
• Covered Outdoor Common Areas
  With BBQ and TV
• Kitchen Utensils, Cookware and Bakeware,
  Glasses, Cutlery, and Dinnerware
• Full-size Bed
• Full-size Private Bathroom With Shower
• Routine Cleaning Included –
  Additional Services Upon Request
• Reserved Parking
• Kitchen Utensils, Cookware and
  Bakeware, Glasses, Cutlery, and
  Dinnerware
• Full-size Bed
• Full-size Private Bathroom With
  Shower
• Routine Cleaning Included –
   Additional Services Upon Request
• Reserved Parking
WE'RE CENTRALLY LOCATED TO PROVIDE A SMOOTH COMMUTE TO WORKSITES NEAR FREEPORT.
We're located along I36, giving you quick access to both coastal and inland worksites. We're 10 minutes away from Dow Chemical Co. and 15 minutes away from Sunoco Logistics. With plenty of restaurants, shopping, gas, and coffee nearby.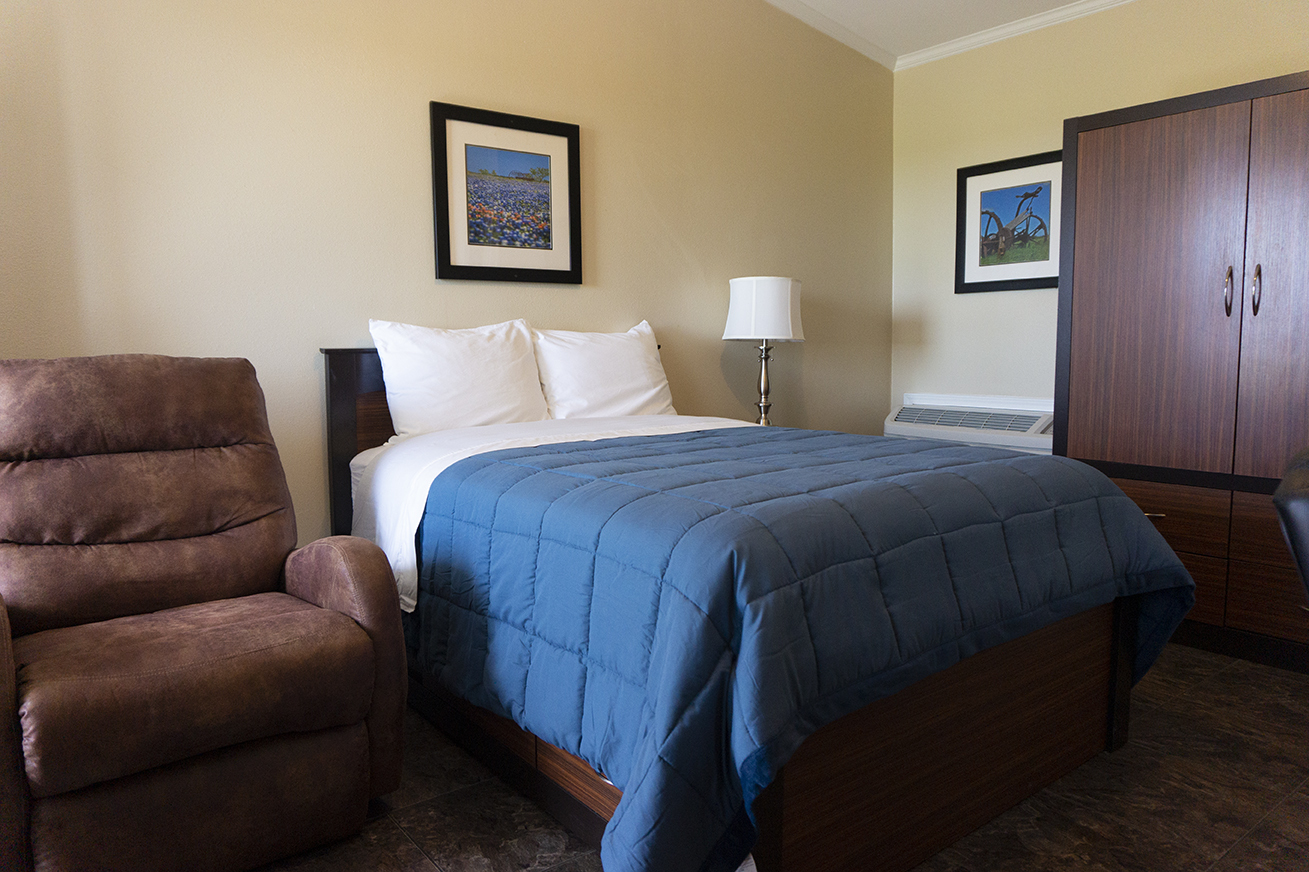 Weekly and monthly rates make Freeport Studios the #1 choice for corporate and workforce housing in the greater-Houston area. With fully-furnished private rooms and in-unit laundry, you can kick back and relax during your short and long-term workforce assignments.
Stay local and avoid the commute and keep your workers well rested and safe. Unlike hotels, Freeport Studios offers more privacy and a pet-free and child-free environment, specially designed to provide hard-working individuals the rest and relaxation they need.
Our suites offer more convenient amenities than any hotel setting. Every suite comes with its own washer, dryer, satellite TV, Wi-Fi, and fully-equipped kitchen. Our covered outdoor pavilions with kitchens and grills give you a place to cook and relax while enjoying your stress-free stay with routine cleaning included for your suite.
Refer a friend and receive a free night stay!
WHY FREEPORT STUDIOS ARE IDEAL
FOR BUSINESS TRAVEL & SHORT-TERM ASSIGNMENTS
• Lots of in-room storage space for all of your belongings.
• Your own kitchen, for when takeout or fast food isn't your first choice.
• No additional fees for access to essentials like parking and internet.
• Centrally located to necessities like grocers, gas stations, pharmacies, and corporate headquarters.
• Friendly accommodations for making your business trip simple, convenient, and affordable.