Experience A one-of-A-Kind Extended-Stay.
Freeport Studios can meet a wide variety of housing needs. We offer the only fully-furnished, extended-stay studios development with same-day move-in in Freeport, Texas.
We will do whatever we can to ensure your experience exceeds your expectations and we are passionate about making your stay as comfortable and easy as possible! There is no place like home, but we will do our best to make your stay with us the next best thing to it. Our studios are located between Freeport and Jones Creek at the corner of State Highway 36 and County Road 330. Our fully-furnished studios are the perfect place to call home for your short or long-term stay in Freeport, TX.
Not your average hotel in Freeport, Texas.
We bring a new level of convenience and flexibility to Freeport hotel options. Our studios in Freeport, Texas offer additional facilities that you won't find at other Freeport hotels, such as fully-equipped kitchens, private in-suite laundry facilities, covered pavilions, and reserved parking.
Freeport housing is the perfect option for groups or individuals that need housing while traveling through.
Our studio rentals are clean, spacious, and comfortable. No matter how long you're on the road, you can still kick your feet up in your own private Freeport studio without dealing with the constant hassle of checking in and out of undesirable motels.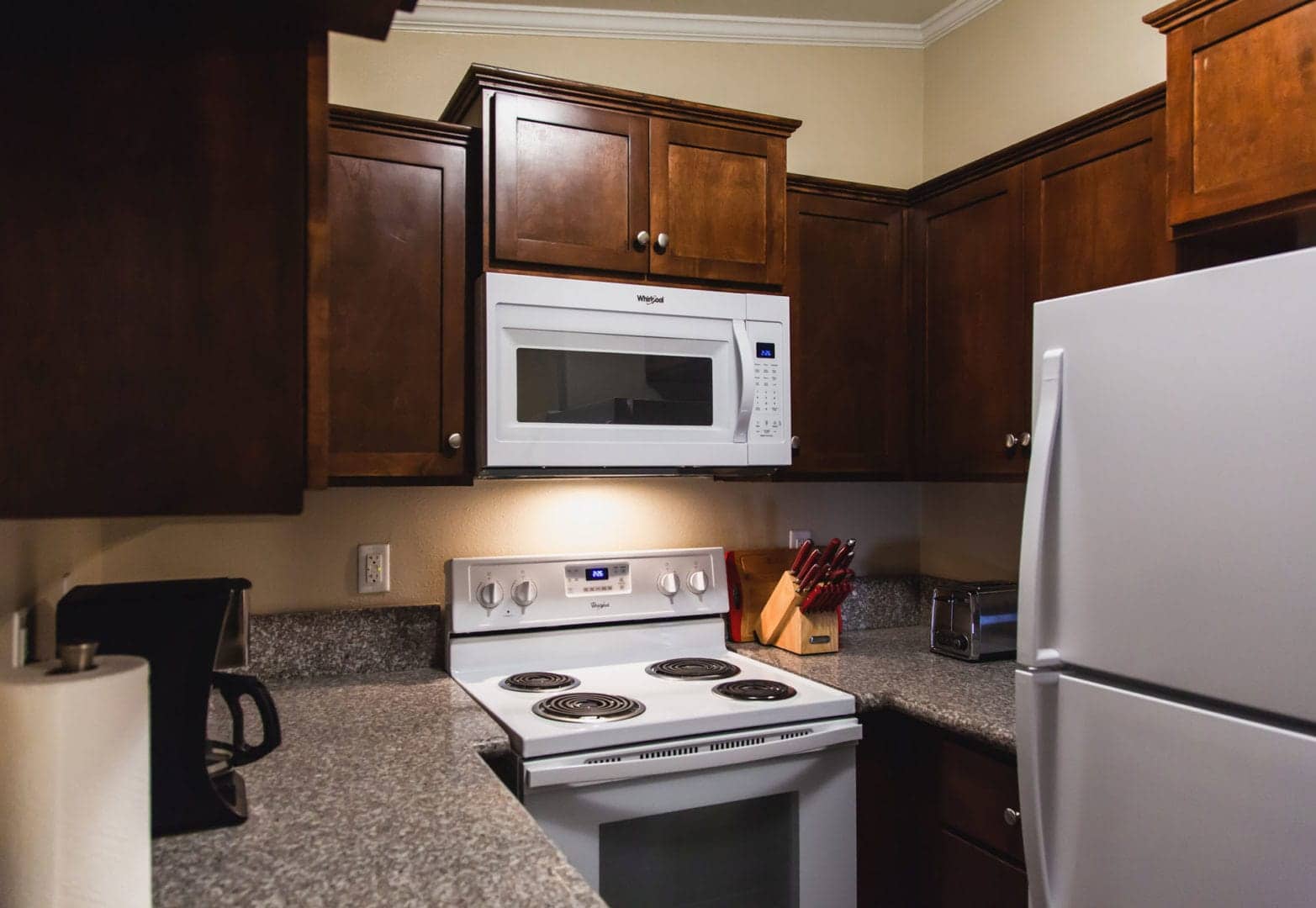 The simple, comfortable solution to your temporary housing needs.
WEEKLY AND MONTHLY RENTALS
Weekly and monthly rates make Freeport Studios the #1 choice for independent contractors seeking temporary housing in the Freeport and greater-Houston area. With fully-furnished, private rooms and in-unit laundry, you can kick back and relax during your  stays. Best of all, you can reserve your studio 100% online today with no credit check, lease, or application fees.
Looking for a quiet, comfortable place to relax and recover from a hard day's work? Unlike hotels, Freeport Studios offers more privacy with a pet-free and child-free environment specially designed to provide you with the rest and relaxation you need. We're streamlined for simple, comfortable living with all the amenities you need, including a kitchen area, living space, bedroom area, and full private bathroom.
"We really enjoyed our stay so much we extended it by two more days. The mini-studio is nice clean modern. All around an awesome staff — very friendly. We will be back. Also for couples that love to fish water is all around you... oh yeah and during COVID times, the studios are spacious and no one on top of each other or beside you unless it's your group."
- Eugene
"Loved the room, space, and peace of mind!!! Very pleasurable and would recommend to all family and friends. Prices are very reasonable as well."
- Meka
"Very clean property, which means even more during the pandemic...You have an individual unit with full kitchen in a trailer and don't have to ride elevators or anything like that so you can enjoy a truly socially distanced vacation to hit the beach. I would recommend a car though because there is nothing within walking distance. Also, the front desk employees are very friendly and wear masks!"
- Cat
"This place is awesome!!! Great room, comfortable bed, and very convenient. Love the fully equipped kitchen and the washer and dryer. If you're traveling for work, this is the place to stay. You can't beat the price and the people that work here work very hard to keep their customers happy. I will definitely stay here again."
-Timbo
"We were here for work for 2 months and this was the perfect place. Everyone in the office was so nice; we had ZERO problems. We will definitely be back when working in the area again!!"
- Michaela
Freeport Workforce Lodging
Looking for a quiet, comfortable place to work remotely? We offer the perfect solution for people looking for centrally-located, move-in ready lodging in Freeport, Texas. Our creatively-designed studios utilize every square inch of space while still offering a comfortable workforce lodging experience that makes you feel right at home.
Refer a friend and receive a free night stay!